If you are reading my blog you have by now guessed I am frugal. When I decided to work part time after having kids I knew there were going to be sacrifices, lots and lots of little sacrifices and some that were bigger. Going to the salon was a really hard thing to give up but I just couldn't make it fit in our budget. Regularly colouring my hair at the salon was no longer an option but neither was going grey!!! I have had grey hair since I was in my late teens so I am no stranger to using home hair colouring products. Well, I pounced on the opportunity to try Schwarzkopf products to keep my hair care and colour frugal AND gorgeous!
Oh and did I mention that it was created with the help of super model Claudia Schiffer and we all know how absolutely drop dead sexy her hair is! I was down to try everything they sent me!!!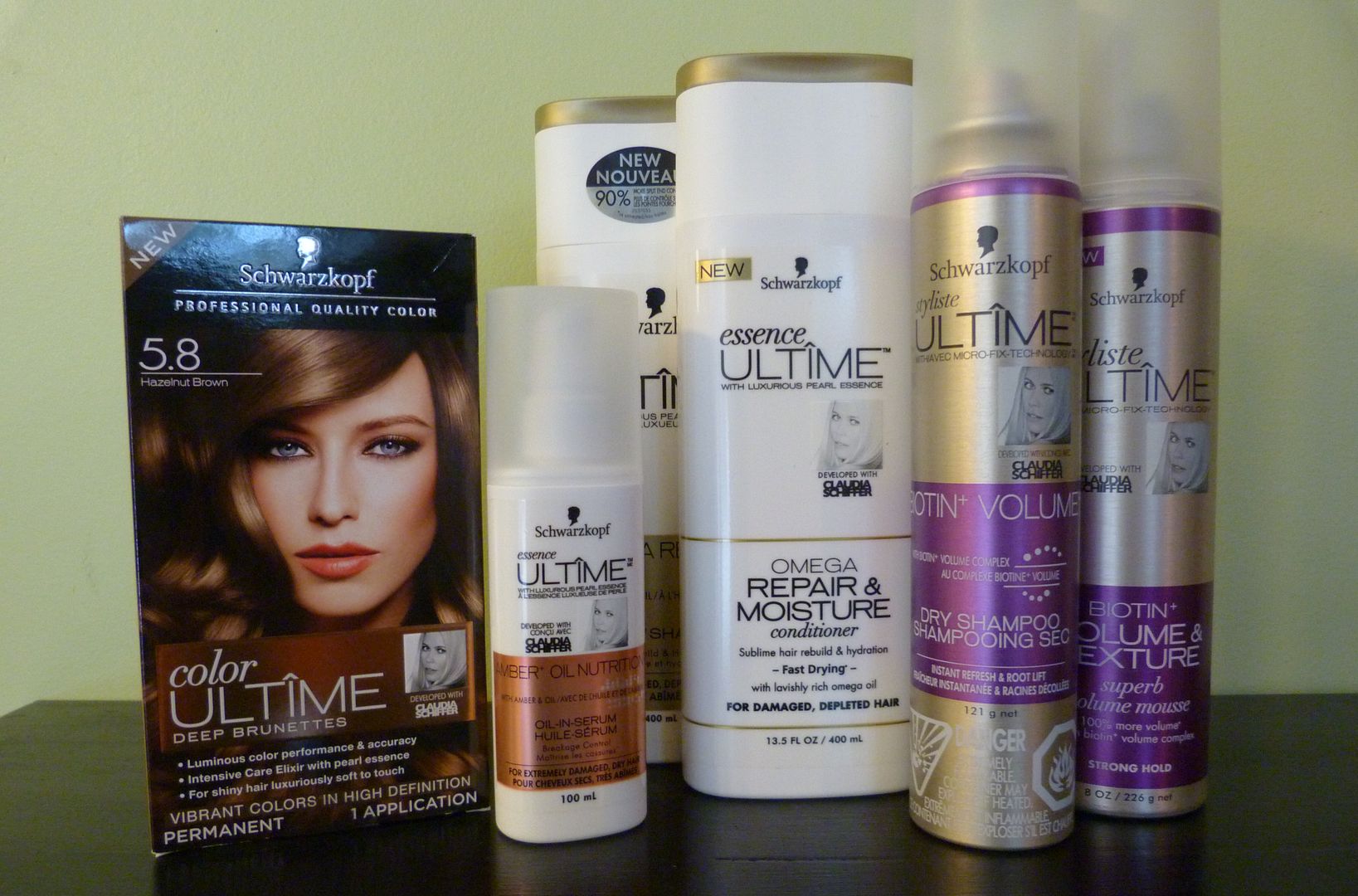 I can't even imagine how many times I have coloured my hair myself at home. I have tried all the brands and a myriad of colours. I have settled on a brown that I imagine is a little lighter than natural tone but similar enough that it doesn't show dark roots, but grey roots can't be avoided. I am cursed with more grey than is fair, in my opinion. I need to know that when I colour my hair I am going to get maximum grey coverage, otherwise not only is a waste of my time but also money.
Let's admit brown hair can be borrrrring. I chose the colour ULTÎME in 5.8 Hazelnut brown which is a little darker than I usually wear so I was worried it might not work for me. It turned out so rich and warm with a nice depth of colour. I ended up liking it better than the light brown I had in before! The colour was easy to use and the product was not drippy (pet peeve of mine!) and was easy to apply. There was more than enough to use on my long hair without needing a second box.
What does Schwarzkopf say about brown hair?
Brown hair, and especially perfectly groomed luscious brown hair, exemplify adult elegance, style awareness and maturity.
I love it- that's me over here walking around exemplifying adult elegance! Glad y'all noticed!
Obviously, My number one hair woe is grey coverage but I also don't my hair feeling dried out or over processed. My hair grows fast-fast-fast so the grey regrowth starts showing in about a month. Since I colour my hair often I have been noticing the ends can be a little crispy if I don't take good care of them. I received essence ULTÎME products try out. I was given the Omega Repair line for Damaged and Depleted hair which sounds really depressing, true but depressing. I have to say though that I may have found some new fave products! My hair feels so soft and ….this sounds cliche but manageable.
My absolute faves are the shampoo and conditioner which claim they will leave my hair feeling "sublime". Do you know what the definition of sublime is? Adjective-of such excellence, grandeur, or beauty as to inspire great admiration or awe. Bold claims, except I actually agree! My hair is shiny and beautiful and I have gotten compliments from long time friends saying it looks "so healthy right now". No more clearance bin shampoo for this mama! It is a small splurge that is really getting noticed which is worth it in my books! I also have been using the Amber Oil Nutrition Oil-In-Serum on the ends of my hair which helps to keep them smooth and sleek looking instead of my usual split end frayed look! It is so weightless makes my hair look shiny and healthy.
Last bit of awesomeness is that all of these products are available at my local drugstore and they are only slightly more than what I would usually pay. They are a fraction the cost of salon products with comparable results. Oh and did I mention I love the luxurious scent? I can't stop smelling my hair, which looks odd but it smells so good!
Do you colour your hair? What is most important to you when you buy hair colour?

Disclosure: I received a sample of a product to facilitate my review. All views and opinions stated on this post are 100% my own.
(Visited 54 times, 1 visits today)